Marymoor Amphitheater Seating Chart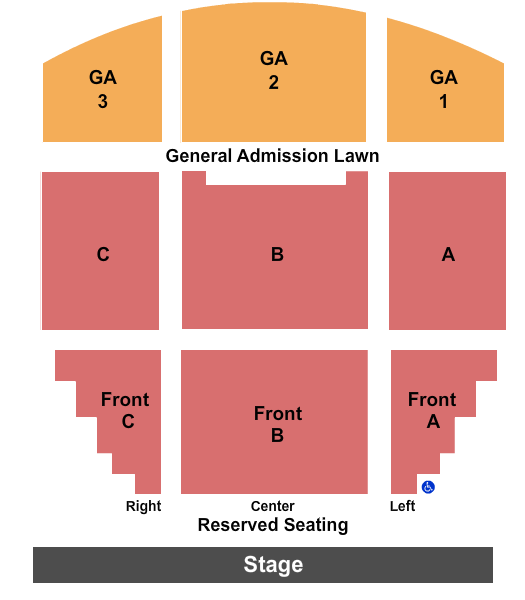 NOTE: Seating layouts may change depending on the event. Make sure you check the individual seating map when selecting your tickets.
The Marymoor concert site has the capacity to hold 5,000 people. For reserved seating shows, that number consists of approximately 1700 reserved seats and space for 3300 people on the lawn (depending on the configuration).
Also, the back portion of the venue is formed by two huge grass mounds which form a natural amphitheater. The back is the area for fans who have brought their own low back beach chairs.
When attending a sold-out show, you are not able to "spread out" as you would attending one that is not. The Marymoor venue has a total seating area of over 52,000 square feet.
General Admission Seating
General admission seating is festival-style on the great lawn. Ticket holders are seated on a first-come-first-served basis. Low back beach chairs are allowed within designated areas of the venue.
Reserved Seating
Reserved seating is located directly in front of the stage for select shows and thus, comes at premium prices.Also, padded chairs are provided for all 1700 seats in the reserved area.
Accessible Seating
Handicapped persons that need assistance are seated a few minutes before the rest of the crowd. Handicapped guests and their groups will be admitted early with a single escort.
Reserve your seat and order your tickets today! Visit the events page to get started.
For more information on the ticket policy and the preferred ticket provider please view the Marymoor Amphitheater tickets page.
For all upcoming events at the Marymoor Amphitheater at Marymoor Park please view the Marymoor Amphitheater events page.